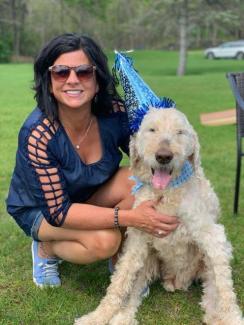 Renee's Reality - July, 2021
Happy Summer Everyone!
The hot days are already here. My hope is that everyone has a moment to enjoy a pool or lake or just to sit in nature. For me, that renews my soul and makes me appreciate all the good things in life.
Our family is doing great! Kalie, my daughter (who runs our branch office in Florida) and I were able to attend a women's conference in FL. It was refreshing to meet woman in our industry who share the same values as we do. We learned, listened, shared stories and became better versions of ourselves.
Sad news, we lost our beloved dog Beau. He was the last part of my Dad, so it was a tough one to handle. We threw him a 15th birthday party one month before he passed away; which he loved every second of it! He will always be a part of our family, in our hearts forever.
2021 stock market Peak or Pause?
As a result of the pandemic, the U.S. economy and corporate earnings essentially went from a depression-like bust to a wartime-like boom in the span of a year. Companies cut operations to the bone amid the early phase of the pandemic—then, amid record-breaking monetary/fiscal stimulus, the economy quickly found its footing.
The question as we head toward the second half of the year is whether we are facing a long-lasting boom, a boom-settle, or a boom-bust scenario. At this point, we lean toward the boom-settle scenario, in part because we may be facing another peak in the growth rate for both the economy and corporate earnings.
As you all know, nobody has a crystal ball, and our economy will continue to have its ups and downs. Unless your risk tolerance has changed, stay invested.
Please call us for a review. We are here to listen.
Be Safe, healthy, and happy.
Best Regards,
Renee