Company Logo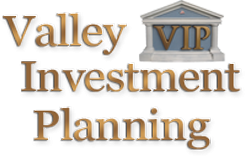 Email
cody@valleyinvestmentplanning.com
Disclaimer
All information herein has been prepared solely for informational purposes, and it is not an offer to buy or sell, or a solicitation of an offer to buy or sell any security or instrument or to participate in any particular trading strategy. 
Securities offered through J.W. Cole Financial, Inc. (JWC) Member FINRA/SIPC. Advisory services offered through J.W. Cole Advisors, Inc. (JWCA). Valley Investment Planning and JWC/JWCA are unaffiliated entities.

For a copy of JWCF's Form CRS, JWCA's Form CRS, or JWC's Disclosure Supplement please click here. By following the link, you consent to receipt of the Form CRS electronically.
7405 South Broadway
Red Hook, NY 12571
United States
Company Description
We are a multigenerational investment firm that is dedicated to helping families and businesses navigate an ever-changing financial world. We treat our clients like family and give them the support and personal service they deserve.